Dodgeball Champions!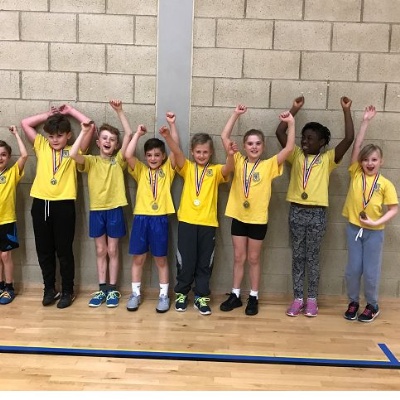 Putteridge entered the year 3/4 Dodgeball tournament held at Inspire Sports Centre on 18th January 2017 and were one of 34 different schools entering the tournament.
Each team was made up of 6 players which had to include at least 2 girls at all times. Each match consisted of 3 games which were 2 minutes long and the team who won 2 out of 3 games, won the match overall.
The Putteridge team consisted of:
Isabella B, Irene D, Jessica C, Oliver H, Owen M, Lewis W, Samuel T and Joe F.
The Putteridge team were placed in Pool C and these were their results:
Won vs St Margarets 3-0
Won vs Stopsley 3-0
Won vs Wenlock 2-1
Lost vs Icknield 2-1
Lost vs Hillborough 2-1
After the pool stage was complete, Putteridge made it through to the next round (the top 3 teams progressed from each pool).
Putteridge were placed in the Plate competition. These are the results from the knockout stages:
Quarter Final
Putteridge 2 vs Beechwood 1
Semi Final
Putteridge 2 vs Icknield 1
Final
Putteridge 2 vs Sundon Park 1
Putteridge finished the day Plate champions and thoroughly deserved the medals they received. The whole team contributed throughout the tournament and demonstrated excellent team spirit in every single game.
A huge well done !
See team photo attached below.