Rugby tournament triumph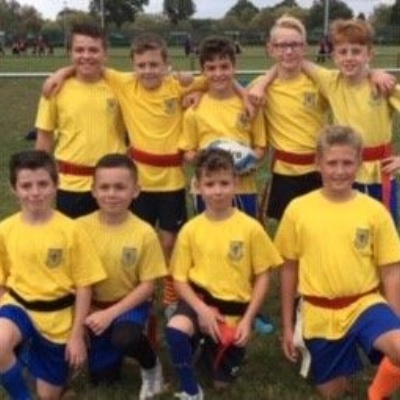 Rugby team emerge undefeated at Stockwood Park event.
Putteridge Primary entered the annual Year 5&6 tag rugby tournament on the 11th October, held at Stockwood Park Rugby Club.
The team consisted of 9 players:
Charlie I, Jack M, Sam T, Oliver H, Lucas K, Mason F, Reece G, Lincoln S & Joe C
Putteridge were entered into pool C, where each game lasted 8 minutes and the team with the most tries scored were the winners.
These were the results from the pool stages:
Putteridge 5 vs Wenlock 2
Putteridge 5 vs Pirton Hill 3
Putteridge 4 vs William Austin 1
Putteridge 5 vs Downside 4
Putteridge 2 vs Whitefield 1
Putteridge 3 vs Bushmead 3
Putteridge finished the pool games undefeated with 5 wins and a draw.
The next round of the tournament was the group stage, where Putteridge played 2 further games:
Putteridge 3 vs Linden 3
Putteridge 4 vs Ferrars 2
It was a fantastic day of rugby and the Putteridge team finished undefeated - every player contributed both defensively and offensively, with excellent team work and attitude shown throughout the tournament.
Well done to all the players and a big thank you to the parents who provided transport and supported the team.