Match Report: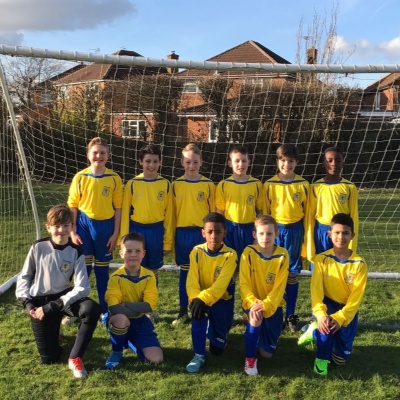 Putteridge Primary vs Warden Hill Junior School - 24.02.17
Putteridge vs Warden Hill Junior School - Friday, 24th February 2017
The Football team would like to thank FOPPs for providing a new school football kit - it looks fantastic!
Putteridge have been placed in division 1 after coming runners up in Group D.
Putteridge started the first half brightly with some fantastic pressing and high tempo passing; they were unlucky not to take lead when Faiz A shot narrowly wide. The deadlock was finally broken when Kian H found himself with space in the box to fire his shot under the opposition goal keeper. The next goal came with a fantastic team move with some intricate passing and good movement, in-form Kian finishing again to give him his second goal of the game.
Warden Hill started to gather momentum and put the Putteridge defence under pressure with some good attacking play. Man of the Match and captain of the day Caiden H-S made countless blocks and interception playing centre back.
Half time Putteridge 2 Warden Hill 0
Unfortunately for Putteridge, Warden Hill started the second half positively and scored a well worked goal to halve Putteridge's lead. With the defence holding strong and the Warden Hill team tiring, Putteridge scored two quickfire goals from Caiden H-S and Faiz A which gave them the win and 3 points from their first league game.
The whole Putteridge team played an excellent game and put in yet another brilliant team performance!